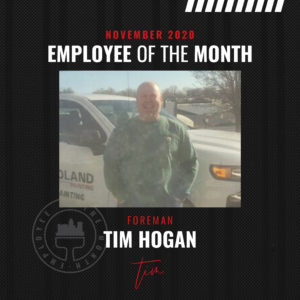 Meet JC Toland's November Employee of the Month, Foreman Hogan.
Tim is a foreman and always has a smile on his face at a project site. Tim has a track record of exceeding expectations, like the demo job he recently finished in two months which was originally scheduled as a six-month job. His favorite part of the job is seeing the finished product. Away from JC Toland, Tim enjoys walking his dogs and yard work around the house. He is looking forward to using his extra PTO day over the holidays to spend more time with his family.
Congratulations, Tim and keep up the terrific work!
---
Your work has not gone unnoticed – enjoy your free PTO day!
Congratulations on behalf of the entire JC Toland Team!